Laid Back Work Day
Faux Fur Coat: Attention: $34.99; Blazer: 15dollarstore.com: $15; Top: Marshall's; Jeans: LEI; Clogs: Payless: $28.99; Watch: Fossil: Gifted; Earrings: F21: $3.50; Pin: Michael's: $1.99 (clearance).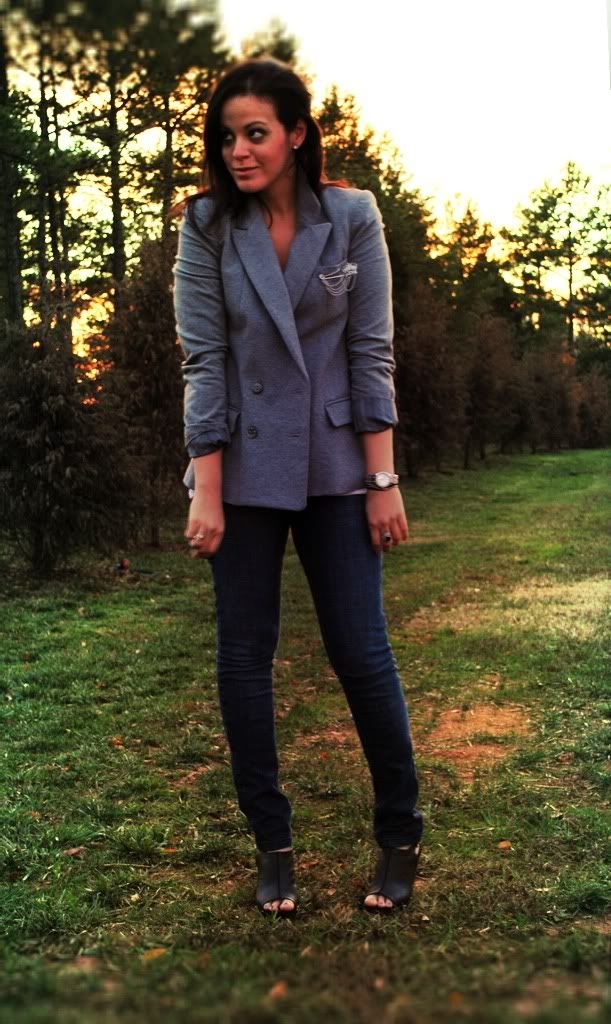 Hmm... whats that over in the trees?
Well, it's not as interesting as my feet... obviously.. I mean look at them... aren't they the most gorgeous feet you have ever seen?? I mean I am in the wrooonng line of work. Should've been a shoe model. I mean they are just fascinating... I just can't stop staring...(I kidd, I kidd)... I actually am not exactly fond of them. Or as my freind Jenny used to say I have alien toes.. So it's a little bizzare that i can write with my feet and pick up generally just about anything, I guess I'm part monkey.... mom you have some explaining to do!!!!
Ok so I thought some humor would distract you all from the fact that I have not been as active lately posting. But I assure you now that I have passed my accounting course (finally!!!) and have made it over the December hump at work oh ya & lets not forget all that pesky Christmas shopping & decorating out of the way. I can get back to sharing fabulousness with you all.. (atleast I like to think that)..