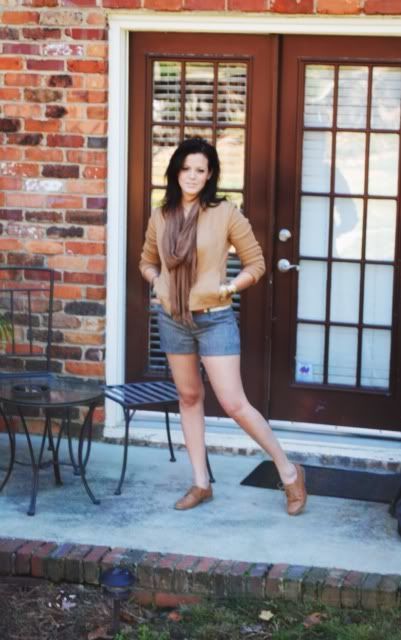 Shirt: Zara, Jacket: Bebe: Gifted, Shorts: Forever21: $17.80, Scarf: AE, Belt: Forever21, Oxfords: Forever21: 24.80, Earings: Forever21: $1.50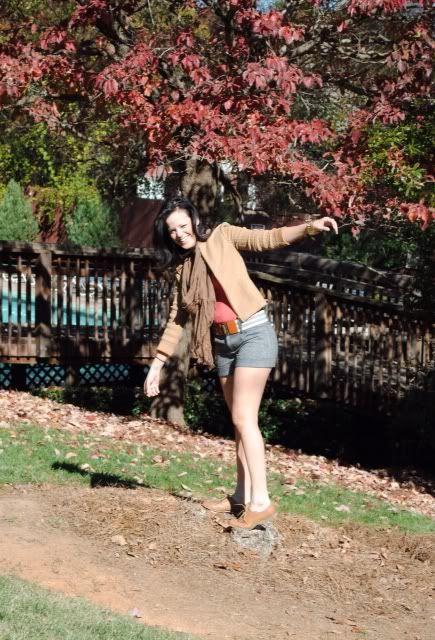 As the time goes by in documenting my outfits I will come across not being able to track down what the price of something was. I can generally remember where I got the item but price I tend to draw blanks... So please excuse my lapse in memory, but since I have moved onto the Fall/Winter side of my wardrobe most of the things I wear if they are not new are no longer on sale anyways. Though if you look around at most of the stores I frequent you can probably find something relatively close.
This was Sunday afternoon, where the Bf and I spent a lovely afternoon celebrating 6 months of togetherness by enjoying a couples massage at a trendy local Spa/Teabar, then we walked some outdoor shops. Where I promised I would not climb atop the outdoor statues (though I was sorely tempted) since it was a classy place and all... We hit up a movie (Due Date) which ended up being more awkwardly uncomfortable than outright funny like the Hangover was. Thats just my personal opinion.. Then we had an early dinner at PF Chang's which was like heaven because I love Chinese Food especially expensive Chinese food.