Ok This Works
Cords: Old Navy: Gifted from Mom; Gingham Top: Forever21; Cardigan: AE; Flats: AE for Payless;Battery-Less watch: Fossil.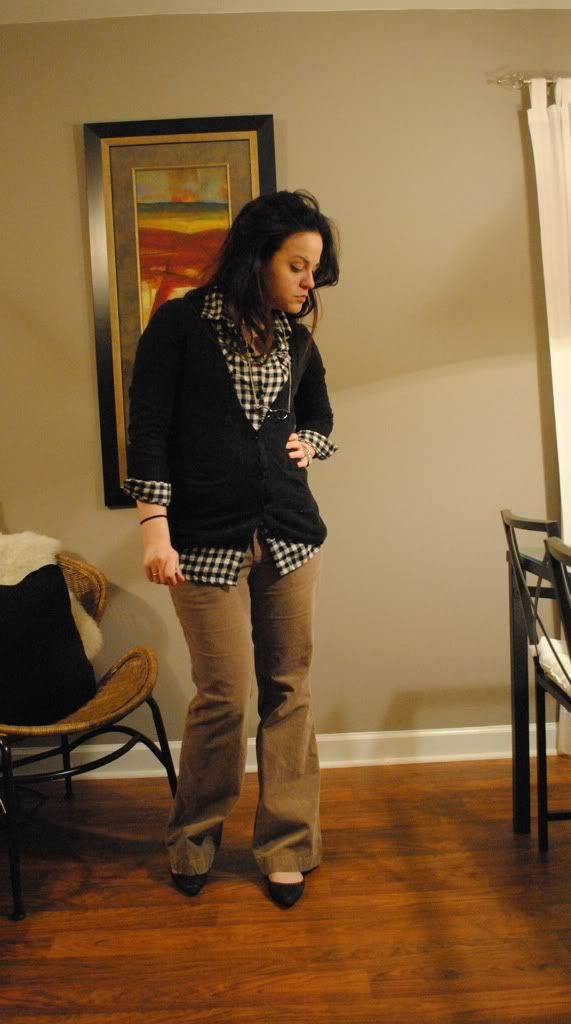 As usual my mornings consist of crawling out of bed, stumbling into the shower, followed by scouring my closet for something stylish, trendy and business appropriate enough to wear to work that day. On days when I tend to draw a fashionable blank... I revert to basics.. Black & khaki works for men so in my coffee deprived mind I tend to think that this is a sane idea. However, on occasion I am lucky enough to still manage to get something right and not hate what I am wearing all day. This was one of those days. It was cooler out and the layers & pants help keep me warmer and the flats let me do all the running around the Suite that I needed to do. So all in all this one goes down for a Win in my book... Please note that I am not marking this as a Charlie Sheen Winning moment, though I wish I wouldnt have been so busy as to be horribly late actually using the catch-phrase! Darn...
Psst! The watch I am wearing has a dead battery in it.. I did begin to wonder why it was 7 all day.. Fail!