This year I didn't really decorate for Halloween because I really haven't been home and didn't want to add clutter with decorations since the house still is on the market. I also didn't feel like crawling around in my attic until I found the box where everything is.. ( I soo need to label). But... I did put out these lovelies..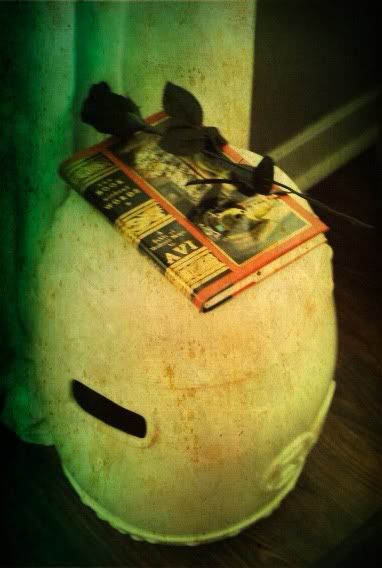 White garden bench: Old Time Pottert $19.99, Scary book : Borders Bin sale $2.99, Black Rose: Walmart $1.50.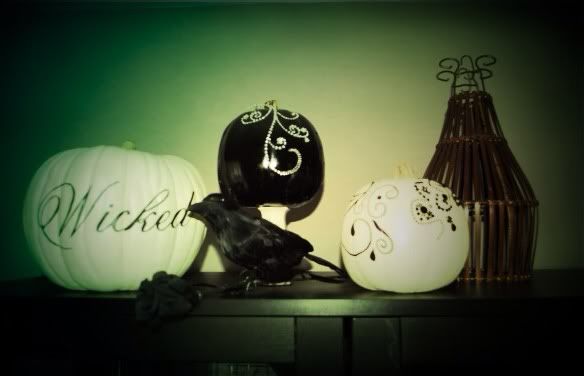 Glam Pumpkin display above Curio cabniet. I made these from this
Tutorial
. I just loved the concept and decided to add my own touches. I ran out of sparklies so I decided to take a swing at freehanding some of the designs.. I also Added another black rose and Crow from Michaels that Ed hates... and a sea lamp from the Pottery Barn outlet.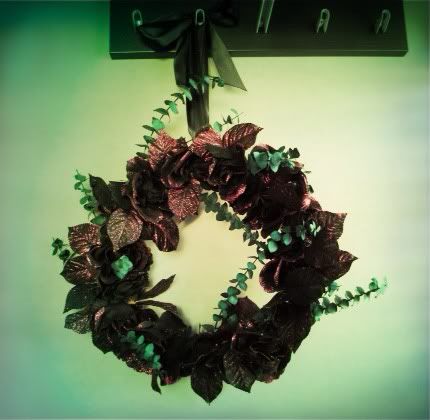 Lastly we have this DIY Glam Rose Wreath. My mom helped me with this one last year, its simple to make...
What you'll need:
Floral Wreath from your local craft store (in your preferred size).
About 4 bushes of roses (I used these black with purple glitter ones)
3 long sprigs of Eucalyptus
Roll of shiny Black Ribbon
Hot Glue Gun
Cut the Roses and leave close to the stem and hot glue to the floral wreath. Make sure to open up the flowers prior to glueing so that they take up more space... once you make it all the way around and like the fill amount add in some random cuttings of the Eucalyptus at random intervals.
Add a length of ribbon long enough to hang wreath at desired height, Tie at the top with a large bow.
Hang and enjoy your sucess..