It was high time that my parents met my Bf's Parents (well mom) and I had the bright idea to throw a dinner party. I love to cook and entertain but planning a 4 course meal for 8 people was a little more daunting than I expected; considering that this was my first official dinner party with non- immediate family guests. Which to me means decorations and no plastic tableware... so heres how it turned out.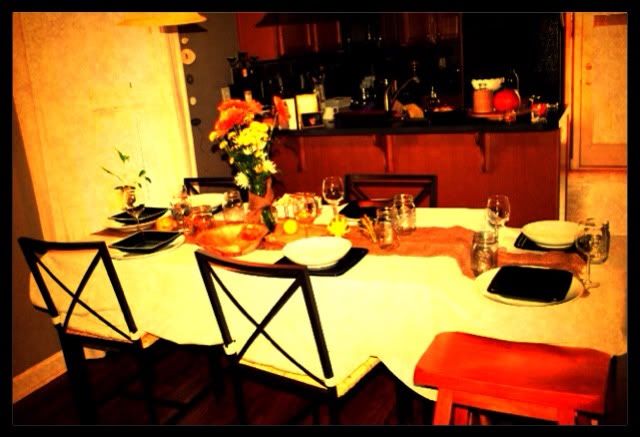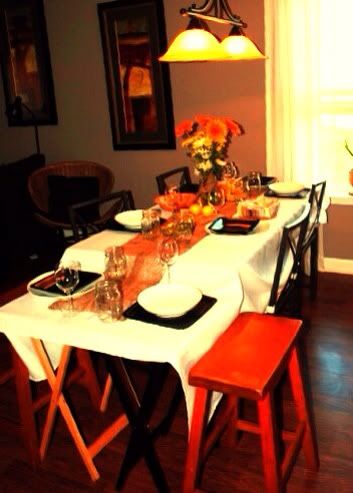 It went off without a hitch... Even though I was still stuck at the kiddie table in my own house...
For decorations I used a simple white table cloth, with Burlap from Michaels as a runner down the middle. I picked up some fresh harvest veggies at Walmart for about $2 total, and some fall colored flowers from the local grocery store. I wrapped a burlap scrap around a bedside water decanter I used as a Vase. I have 2 sets of 4 place settings as you can see above the square black set from Ikea and the circular white set from Oneida (gift), I mixed and matched the two sets to have a full 8 place settings and to look more cohesive. Cost to decorate $20.
Menu:
Appetizers:
Caprese Salad with Basil infused EVOO
Homemade Bruchetta
Garden Veggie Hummus and Pita Chips
Main:
Ceasar Salad with Homemade Dressing
My Signature Turkey Meatballs (that are fried in EVOO then baked in the oven).
Whole Grain Pasta with Heirloom Tomato Sauce
Cheesy Garlic Bread
Dessert
:
Coffee flavored Bread Pudding
Wine Wine and more Wine!!! Oh and some of my homemade Iced Sweet Tea with lemon.