Ok so I spent the big 25 doing a number of different things..
On Friday I recieved a Cookie Cake at work from my department.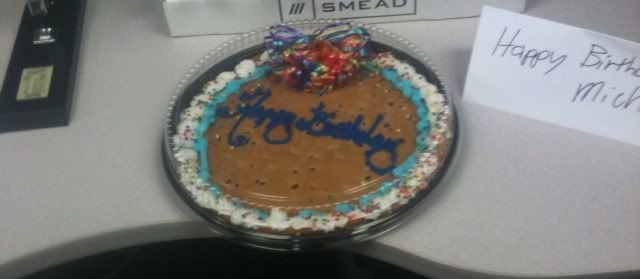 I had a giany bouquet of flowers delivered from my most loving bf and we headed to OG for dinner because I had the worst craving for their salad and breadsticks.
Saturday rolled around I had to take a test first thing in the AM which knocked off my schedule to get may facial at the spa... Which I now need to reschedule.
However that did give me some freetime to do some crafts.
My Parents then took and Ed out for lunch to eat Cuban food that was no where near hometown quality but not bad for NC.
The party began.. We went to Mez a local nightclub that plays an assortment of music that leans more into electronic mixing with top hits.
Sunday we were supposed to go to the MeltingPot for dinner but thats being postponed until this weekend where we will be going to the one in Myrtle Beach instead...
And now I Give you the birthday horde... all my lovely presents from family and freinds...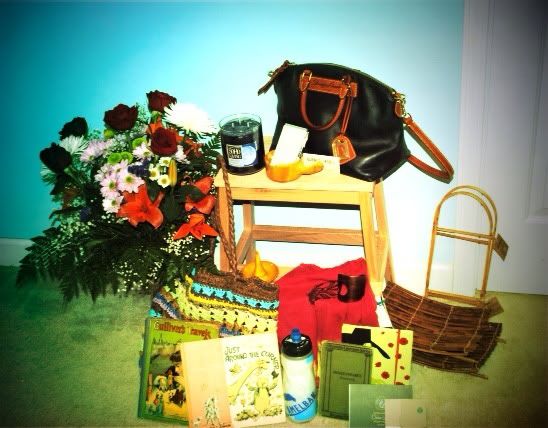 Theres the giant bouquet I mentioned earlier... Ed also gave me the dooney and bourke purse in blue leather just like I wanted but had talked myself out of spending that much on a purse. He also got me a pocketsized notebook with attached pen, because I always have a notepad and this way this one will fit in the new purse.
My mother gifted me a hand dyed shirt with some vintage books, and a wicked themed notebook, also a cinnamon candle plater thing from Pier 1 (it smells wonderful but fell apart in the bag). There was some handmade pottery from a local shoppe along with the spa facial and a handmade one of a kind wooden bracelet from another local boutique.
My grams gifted a B&N giftcard which with me never goes to waste.
My aunt gave me a Camelbak insulated water bottle, because she knows I have a thing with sippy cups(i know its weird) and that I've been stink eyeing hers for months.
A freind gave me a Starbucks GC which as well will so not go to waste... I can taste the vanilla lattes now with the cooling weather...